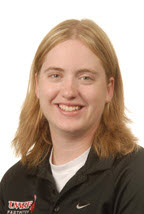 Amber Dohlman starts her first year as head softball coach in 2015-16. She will also serve as UWRF's co-sports information director.
Dohlman has been the head softball coach and assistant sports information director at Millikin University since 2012.She led the Big Blue to a 20-15 record in her first season as head coach. She has a 53-57 overall record as the head coach. She has been a member of the NCAA regional ranking committee (2013-15) and organized and ran the first ever Millikin Big Blue softball tournament. She has participated in several national coaching clinics and coordinated and conducted offense/defense clinics for youth aged 10-18. She served as an NCAA Championships game representative for the last three seasons. Dohlman has recruited and coached two All-Americans, 13 All-Region players, three All-CCIW players and 18 All-WIAC players.
Dohlman joined the Millikin staff after serving as an assistant softball coach at the UW-Eau Claire and UWRF. Dohlman spent 2011 and 2012 on the staff of Wisconsin-Eau Claire helping coach the Blugolds to a 33-14 record, the WIAC regular season championship, and a spot in the NCAA DIII Tournament in 2012.
Dohlman was on the staff at River Falls from 2006-2010. UWRF compiled a 134-76-1 record during her five years as a student assistant and assistant coach. She has a career record of 195-104-1 as an assistant coach. Dohlman was the Head Coach of the Minnesota SnoCatz Fastpitch Club team in Brooklyn Park, Minn. from 2010 to 2012.
In addition to coaching, Dohlman worked in the sports information offices at Millikin, Eau Claire and River Falls. She has several years of experience in media relations, statistics, web streaming, social media and web page production.
Dohlman takes over the Falcon softball program after Faye Perkins retired as head coach at the end of the 2015 season. She was an assistant coach under Perkins during the 2006 and 2007 seasons.
She earned her undergraduate degree in 2008 from UWRF in secondary education-health and human performance with an emphasis in exercise and sport science.